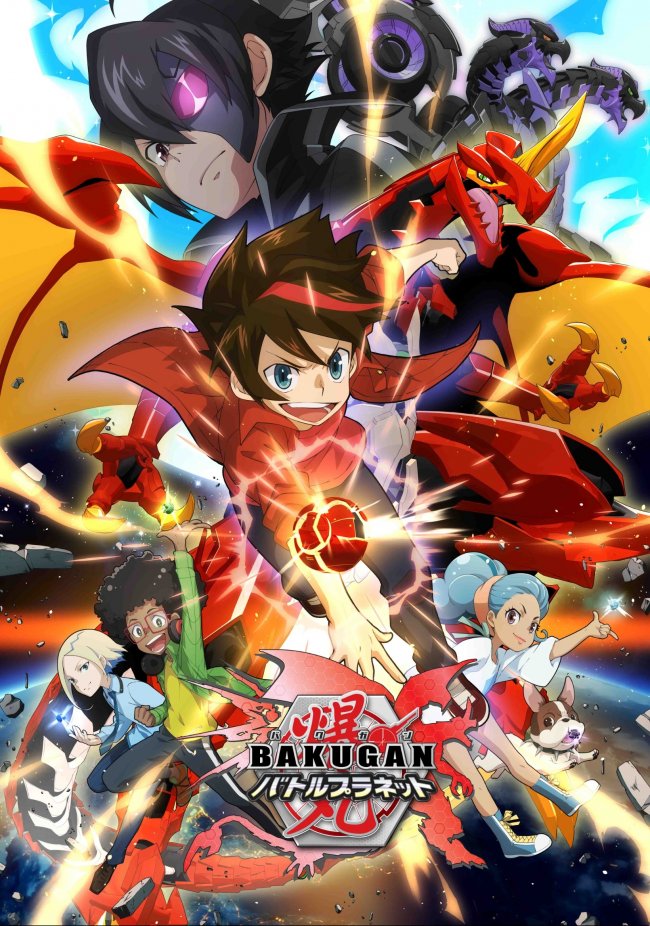 ©S/T/N/BBP PROJECT, TV TOKYO
Original title in Japanese:
Bakugan Battle Planet
爆丸バトルプラネット
©S/T/N/BBP PROJECT, TV TOKYO
My name is Dan Kouzo. I'm forming a cool team called "Awesome Ones" along with my friends, Wynton and Lia, and our dog, Lightning, to shoot cool videos and upload them online! While investigating the grounds of the "Great Collision" that shook the world 12 years ago in the hopes of solving its mysteries and filming it, we came across a curious creature that appeared in the light!! The creature was called "Drago"! Drago takes the form of a dragon, and usually stays in the shape of a small sphere. But he can make himself huge and exhibit lethal moves of tremendous power. Drago told us that creatures like him were called "Bakugan"! The amazing part is that, at the same time, at the same moment when we met Drago and the others, several other types of Bakugan were discovered all over the world! Everybody is excited about the Bakugan boom. But many bad guys are showing up, eyeing the Bakugan's mysterious powers, and causing many troubles and incidents. Even so, everything will be alright if the Awesome Ones and Drago are here!! Let's go have fun!!